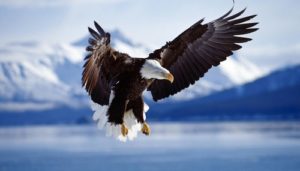 We continue our series this week on the Woman of Revelation 12, turning our attention now to the Flight of the Woman, the Flood of Error from the Serpent and in particular the Woman's resistance to the Flood by the Word of God. As we noted in part 2, the Flight, and therefore the Flood, must occur in the period of the Toes of Daniel 2—after the 5th Seal of Revelation 6 is opened but before the Little Horn of Daniel 7 accedes to civil dominion. As we described in Do Not Weep for Nicomedia, the 5th Seal occurred in 311 A.D., and as we described in The Fifth Empire, part 3, Roman Catholicism took up the mantle of civil power in 395 A.D.. The Flight and the Flood occur between those two events. This week, we begin to examine the fledgling resistance movement—the first signs of protest against the emerging Roman leviathan. What we find is a group of godly Christian men who, against all odds, stood on the Scriptures to withstand the Flood of error that proceeded from the mouth of the Serpent. The whole world was swept up in the novelties being introduced at the time, but the Church was not.

Perhaps as good a place to start as any—since we are discussing the Woman of Revelation 12—is the sudden shift that occurred late in the 4th century toward the popular identification of "the bride of Christ" as the celibate Christian female. Whereas the Scriptures plainly identify the Church as His bride (John 3:29; Revelation 21:2, 9; 22:17), the virginal female body enjoyed sudden and extraordinary prominence in writers such as Ambrose and Jerome who made them individually brides of Christ. David G. Hunter (previously Monsignor James Supple Chair of Catholic Studies at Iowa State University, currently Cottrill-Rolfes Chair of Catholic Studies at the University of Kentucky), elucidated the paradigm shift in his 2000 article, The Virgin, the Bride, and the Church:
"In the later years of the fourth century the ascetic and monastic movements led male Christian writers to devote an extraordinary degree of attention to the bodies of women, especially celibate women. In the hands of ascetic authors the traditional biblical image of the virgin bride acquired new life. The 'bride of Christ' became the celibate Christian woman. … In the ascetic controversies of the late fourth century, the identity of the virgin bride—and specifically the question of the relationship between the individual Christian as virgin and the church as virgin—was clearly a point of contention." (David G. Hunter, The American Society of Church History, June 2000 (283-84))
Hunter acknowledged that "[t]he increasing prominence of ascetic women in late-fourth-century Christianity created a crisis," but only explored the ecclesiastical response. He did not uncover the underlying source of the crisis itself. The late fourth century novelty was just one part of the vast Flood described in Revelation 12, the effort of the Serpent to overcome the Woman with error. Something significant had happened late in the fourth century, a shift in focus that changed the way people viewed themselves in relation to the church, and the church in relation to Christ. At stake was the eternal security of the Christian, and suddenly the best way to attain it was by virginity.
Virgins would be greeted personally by Mary and throngs of "applauding angels" at the gates of heaven, and attended by "choirs of virgins" (Ambrose, Concerning Virginity, Book II, chapter 2, paragraphs 16, 17). So meritorious was the office of the consecrated virgin that just by keeping her vow—itself a daily sacrifice—she could redeem the faults of others. The wages of sin were death, but the wages of chastity were everlasting life, and those wages were transferable to others:
"You have heard, O parents, in what virtues and pursuits you ought to train your daughters, that you may possess those by whose merits your faults may be redeemed. The virgin is an offering for her mother, by whose daily sacrifice the divine power is appeased." (Ambrose, Concerning Virginity, Book I, chapter 7, paragraph 32).

"And if they ought to benefit not themselves only, who lived not for themselves alone, one virgin may redeem her parents, another her brothers" (Ambrose, Concerning Virginity, Book II, chapter 2, paragraph 16)

"You have served the good service of chastity, the wages of which are everlasting life" (Ambrose, Concerning Virginity, Book II, chapter 4, paragraph 29, retelling a legendary story of a virgin martyr)

"Marriage is good, for thereby the means of continuing the human race has been devised, but virginity is better, for thereby the heritage of the heavenly kingdom is regained, and the mode of attaining to heavenly rewards discovered." (Ambrose, Letter 42, paragraph 3)
Such was the elevation and magnification of the new order of consecrated virgins. The whole world became caught up in the pomp and novelty of it all.
When Liberius of Rome administered the consecration of the virgin Marcellina, the twittering crowd had come as to a wedding feast to witness her "good espousal" to Christ (Ambrose, Concerning Virgins, Book III, chapter 1). Jerome repeatedly called the consecrated virgin, "God's bride" (Jerome, Epistle 22, chapter16) and  "Christ's spouse" (Jerome, Epistle 22, chapters 8, 24), and called the virgin's mother "the mother-in-law of God" (Jerome, Epistle 22, paragraph 20).
This new marital rite of "consecration of virgins had become a formal practice in the Western church only at the end of the fourth century" (Hunter, p. 288). When Roman Catholic apologist, Dave Armstrong attempted to find the same practice in the east, he could do no better than cite late 4th century sources (Dave Armstrong, The Quotable Eastern Church Fathers: Distinctively Catholic Elements in their Theology (2013) 38-40). Falling from such consecration was as bad as, or worse than, any other sexual crime imaginable. As Hunter notes, Pope Siricius had gone so far as to excommunicate the consecrated virgin who stumbled into marriage—an offense as grave as incest and adultery—a sin for which she could not effectually repent until her husband died (Hunter, p. 288, (Pope Siricius, Ad Gallos Episcopus, Patrologia Latina (P.L.), vol 13, col 1182). The same rule applied to the consecrated virgin as to she who had committed to celibacy but had "not yet taken the veil" (similiter et quæ nondum velata est) (Pope Siricius, Ad Gallos Episcopus, P.L. 13, col 1181). Jerome advised Eustochium that by avoiding marriage she was "fleeing from Sodom" (Jerome, Epistle 22, to Eustochium, paragraph 2). He reminds the virgin that "Jesus is jealous" of her face (Jerome, Epistle 22, to Eustochium, paragraph 25), and would be angry if she removed her veil, revealing her face to others. If she turned from her vow and caught "the eyes of the young men," He would reject her, turning her out "to feed the goats, which shall be set on the left hand" (Jerome, Epistle 22, paragraphs 8, 16, 24, 25). John Chrysostom, writing to Theodore of Mopsuestia, rebuked him for considering marriage to the lovely Hermione after having taken, then on her account regretting, a vow of celibacy (Chrysostom, to Theodore, Letter 1, paragraph 14). To marry Hermione would be adultery, "even if you call it marriage ten thousand times over"—nay! "worse than adultery in proportion as God is greater than man." He continued:
"He has not forbidden to marry, but He has forbidden to commit adultery, may you be preserved from ever engaging yourself in marriage! And why do you marvel if marriage is judged as if it were adultery, when God is disregarded?" (Chrysostom, to Theodore, Letter 2, paragraph 3)
We do not know what to call a sexual offense that is as many times worse than adultery as God is greater than man, but it must be a terribly obscene offense against nature, and nature's Creator. Such grievous sexual offenses were to be avoided, so great was the punishment for them.
Arising from this novelty came a triple hierarchy of chastity—with varying degrees of eternal reward in which virgins enjoyed the primacy. Behind virgins were widows, and behind widows, married women. Within that last group, those who did not engage in conjugal relations with their husbands were elevated above those who did, for celibate wives were better off than the "incontinent," and the incontinent wife was "a kind of adulterer" (Ambrose, Concerning Widows, chapter 4, paragraph 23; Epistle 63, paragraphs 32, 40). Any widow or celibate wife who stumbled back into the marriage bed was like a dog returning to its own vomit (Jerome, Epistle 54, paragraph 4), and was engaging in prostitution (Jerome, Epistle 48, paragraph 18). Better to have remained a virgin, but if not a virgin then a widow, and if married, better celibate than not:
"I do not deny the blessedness of widows who remain such after their baptism; nor do I disparage those wives who maintain their chastity in wedlock; but as they attain a greater reward with God than married women who pay the marriage due, let widows themselves be content to give the preference to virginity." (Jerome, Against Jovinianus, Book I, chapter 33)
Thus had the novel rite of consecrated virginity been introduced, and with it the sordid new hierarchy of chastity.  The legitimate institution of marriage was forbidden not in explicit terms but by recasting it as adultery, fornication, prostitution, incest, sodomy and an offense so obscene Chrysostom could not name it except by hyperbolic superlatives.
As challenging as these new constraints were, the faithful were not to grow faint in the perpetual struggle to avoid the pollution of the marriage bed, each striving as best he could to achieve the next higher level: "for different degrees of virtue a different reward is set forth" (Ambrose, Concerning Widows, Chapter 11, paragraph 71). For those trapped in the lower tiers by choice or by circumstance there remained the possibility of being redeemed by those in the upper. But it was best to avoid the lower tiers altogether than to try later to recover from them.
Lest their virgin daughters stumble into marriage, or worse, into motherhood, parents were duly warned not to interfere in this novel consecration. "But some one perhaps wishes to have grandchildren, and to be called grandfather," Ambrose proposed (Ambrose, Concerning Virginity, Book I, chapter 7, paragraph 33). The virgin must then resist the worldly counsel of her parents:
"You are being exercised, O virgin, while you are being urged. And the anxious entreaties of your parents are your first battles. Conquer your affection first, O maiden. If you conquer your home, you conquer the world." (Ambrose, Concerning Virginity, Book I, chapter 12, paragraph 63)
Calling to mind a recent example of a family member who had objected to a girl's intent to take the veil, Ambrose took as revelatory the fact that the objector soon died—a poignant reminder to parents who would think to advise against the novel consecration:
"So the others, each of them, fearing the same for himself, began to assist and not to hinder her as before … . You see, maidens, the reward of devotion, and do you, parents, be warned by the example of transgression." (Ambrose, Concerning Virginity, Book I, chapter 12, paragraph 63).
This controversy was fueled by obscene and incendiary rhetoric from the advocates of the triple-tiered hierarchy of merit. Jerome had staked out a position similar to Ambrose's but in such vitriolic terms that his own friends, as a favor to him, attempted to keep his treatise on virginity from going public (Jerome, Epistle 49, to Pammachius, paragraph 2). Alas, the efforts failed and Jerome's position eventually became normative, receiving in his mind the imprimatur of a pope (Jerome, Epistle 48, to Pammachius, paragraph 18). Encouraged by this papal affirmation, Jerome doubled down, reiterating and expanding on his position in his various letters and vilifying any who dared to oppose him. To speak against Jerome was to speak against the church:
"[I]f a virgin and a wife are to be looked on as the same, how comes it that Rome has refused to listed to this impious doctrine? … There can be no middle course." (Jerome, Epistle 48, to Pammachius, paragraph 2).
To understand the nature of the opposition to Jerome, it is important first to see how deranged he had become in his dogmatism on celibacy and his derogation of marriage. His defense was abusive, his reasoning absurd and his interpretations of Scripture were farcical, nonsensical and gratuitous. It is no wonder his friends sought to protect him by silencing him.
It started with Jerome's most widely known treatise on virginity, his letter to Eustochium, wherein he began to lay down the hierarchy of merits—for virgins, widows and married women—and the differing eternal rewards for each. "Learn in this respect a holy pride," he wrote to Eustochium. "Know that you are better than they" (Epistle 22, to Eustochium, paragraph 16), for the virgin alone is truly married to Christ:
"When God says to Eve, 'In pain and in sorrow you shall bring forth children,' say to yourself, 'That is a law for a married woman, not for me.' And when He continues, 'Your desire shall be to your husband,' [Genesis 3:16] say again: 'Let her desire be to her husband who has not Christ for her spouse.' And when, last of all, He says, 'You shall surely die,' [Genesis 2:17] once more, say, 'Marriage indeed must end in death; but the life on which I have resolved is independent of sex. Let those who are wives keep the place and the time that properly belong to them. For me, virginity is consecrated in the persons of Mary and of Christ.' " (Jerome, Epistle 22, to Eustochium, paragraph 18)
Adam and Eve, Jerome explained, were expelled "from the paradise of virginity" (Jerome, Epistle 22, paragraph 18). The "command to increase and multiply" was fulfilled only after the fall, showing that "virginity is natural while wedlock only follows guilt" (Jerome, Epistle 22, paragraph 19). "Marriage replenishes the earth, virginity fills Paradise" (Jerome, Against Jovinianus, Book I, chapter 16).
To Jerome, the oppressive duties of marriage were satanic and evil. Was it not clear enough from Job that the Devil's "strength is in the loins, and his force is in the navel"? This, Jerome thought, was obvious evidence that the reproductive organs employed in marriage are tools of the devil himself:
"The terms [loins and navel] are chosen for decency's sake, but the reproductive organs of the two sexes are meant. … In his assaults on men, therefore, the devil's strength is in the loins; in his attacks on women his force is in the navel." (Epistle 22, to Eustochium, paragraph 11)
Indeed, the union of two was inherently unholy, unclean and "not good." After all, the days of creation were all "good" except the second, proving that marriage was "not good." And the marriage compact is exceedingly "not good" because "it destroys unity":
"This too we must observe, at least if we would faithfully follow the Hebrew, that while Scripture on the first, third, fourth, fifth, and sixth days relates that, having finished the works of each, 'God saw that it was good,' on the second day it omitted this altogether, leaving us to understand that two is not a good number because it destroys unity, and prefigures the marriage compact." (Jerome, Against Jovinianus, Book I, chapter 16)
Besides even that, the clean animals were led into the ark by sevens, but "the unclean animals are led into Noah's ark in pairs" showing the uncleanliness of conjugal union. This was confirmed for him "when Moses and Joshua were bidden to remove their shoes." See? Shoes come in pairs. What else comes in pairs? Married people! Unholy things always come in pairs and must be removed. Thus, "the command had a mystical meaning" (Epistle 22, to Eustochium, paragraph 11). Such was Jerome's pathetic attempt to condemn the blessed union of two that God had instituted in the garden of paradise.
In another treatise, Jerome continued his defense of consecrated virginity, as well as his condemnation of those who wander from it. Jesus, he claimed, loves virgins more, and condemns as incestuous adulterers those who forsake their virginity:
"Christ loves virgins more than others, because they willingly give what was not commanded them" (Jerome, Against Jovinianus, Book I, chapter 12).

"[V]irgins who marry after consecration are rather incestuous than adulterous" (Jerome, Against Jovinianus, Book I, chapter 13).
In that same treatise Jerome reinforced his position on the triple hierarchy by which marriage is subordinated to widowhood and virginity.
"If virgins are first-fruits, it follows that widows and the continent in marriage, come after the first-fruits, that is, are in the second and third rank: nor can a lost people be saved unless it offer such sacrifices of chastity to God, and with pure victims reconcile the spotless Lamb. … as mere virginity without other works does not save, so all works without virginity, purity, continence, chastity, are imperfect." (Jerome, Against Jovinianus, Book I, chapter 40)
Here he also appealed to the enumeration of fruits in the parable of the soils and the way the numerals sixty and thirty are signified using the left hand, but one hundred is signified using the right:
"The thirty-fold has reference to marriage. The very way the fingers are combined— see how they seem to embrace, tenderly kiss, and pledge their troth either to other— is a picture of husband and wife. The sixty-fold applies to widows, because they are placed in a position of difficulty and distress. Hence the upper finger signifies their depression, and the greater the difficulty in resisting the allurements of pleasure once experienced, the greater the reward. Moreover (give good heed, my reader), to denote a hundred, the right hand is used instead of the left: a circle is made with the same fingers which on the left hand represented widowhood, and thus the crown of virginity is expressed." (Jerome, Against Jovinianus, Book I, chapter 3)
Could it possibly get any more obvious than that? Ignoring Jesus' observation that marriage establishes unity rather than destroying it (i.e., "they are no more twain, but one flesh"), and that marriage was instituted in the garden before sin entered the world, and that Adam and Eve were "one flesh" even when "they were both naked … and were not ashamed" (Genesis 2:23-24; Matthew 19:5-6; Mark 10:7-8), Jerome insisted that virginity was created in paradise, but that marriage was a product of the fall:
"And as regards Adam and Eve we must maintain that before the fall they were virgins in Paradise: but after they sinned, and were cast out of Paradise, they were immediately married." (Jerome, Against Jovinianus, Book I, chapter 16)
Besides, marriage was under the law, and we are no longer under the law, but under grace. Thus, rejecting the law, virginity should be embraced instead:
"Let us who served marriage under the law, serve virginity under the Gospel." (Jerome, Against Jovinianus, Book I, chapter 29)
Further, "the carnal mind is enmity against God" (Romans 8:7) and "they that are in the flesh cannot please God" (Romans 8:8). Thus clearly, Jerome thought, those who partake of conjugal union are "in the flesh" and cannot please God. To engage in marital union was to sow, and therefore reap, corruption:
"If the wisdom of the flesh is enmity against God, and they who are in the flesh cannot please God, I think that they who perform the functions of marriage love the wisdom of the flesh, and therefore are in the flesh." (Jerome, Against Jovinianus, Book I, chapter 37)

"I think that he who has a wife, so long as he reverts to the practice in question [conjugal union], that Satan may not tempt him, is sowing to the flesh and not to the Spirit. And he who sows to the flesh (the words are not mine, but the Apostle's) reaps corruption." (Jerome, Against Jovinianus, Book I, chapter 38)
All these proofs, and many more besides, were sufficient to show that Satan was the Lord of the marriage bed and the knitting of children in the womb. Obviously there was simply nothing more satanic than to procreate in marriage:
"And yet though Lucifer be fallen (the old serpent after his fall) …  [h]e is king over all things that are in the waters— that is to say in the seat of pleasure and luxury, of propagation of children, and of the fertilisation of the marriage bed." (Jerome, Against Jovinianus, Book II, chapter 4)
In his mind, marriage keeps us continually in disobedience. To become "one flesh" with one's wife was to "insult her," but to abstain from union was to honor her so that both could obey Paul's command:
"The … Apostle … commands us to pray always. If we are to pray always, it follows that we must never be in the bondage of wedlock, for as often as I render my wife her due, I cannot pray. … Husbands and wives are to dwell together according to knowledge, so that they may know what God wishes and desires, and give honour to the weak vessel, woman. If we abstain from intercourse, we give honour to our wives: if we do not abstain, it is clear that insult is the opposite of honour." (Jerome, Against Jovinianus, Book I, chapter 7)
By such subtlety and sophistry, marriage was practically forbidden, even as they who subordinated and derogated the holy institution claimed loudly that they were not against it.
No, Ambrose, Jerome, Liberius, Siricius, and Chrysostom were not against marriage, per se. It was just that they who join physically in matrimony are in the flesh, in which it is impossible please God.
Not that they were against marriage, per se. Just that those who enter into conjugal union participate with Satan in the generation of children.
Not that they were against marriage, per se. Just that the intimate members by which marriage is consummated owe their function to Lucifer.
Not that they were against marriage, per se. Just that those who become one flesh after entering into a consecrated virginity were incestuous adulterers and fornicating sodomites.
Not that they were against marriage, per se. Just that "a wife is classed with the greatest evils" (Jerome, Against Jovinianus, Book I, paragraph 28).
Not that they were against marriage, per se. Just that he who engages in sexual union with his wife insults and dishonors her.
Not that they were against marriage, per se. Just that she who returns to the marriage bed is like a dog returning to its vomit, and no better than a  prostitute.
Not that they were against marriage, per se. Just that from the Scripture "it follows that we must never be in the bondage of wedlock."
Not that they were against marriage, per se. Just that marital union is not good, unholy, unclean and unnatural.
Not that they were against marriage, per se. Just that virgins would be greeted by Mary at the heavenly gate, applauded by angels and choired by virgins. For the wages of virginity are everlasting life, and all works without virginity, purity, continence, chastity, are imperfect.
Not that they were against marriage, per se. Just that Jesus loves virgins more.
Not that they were against marriage, per se. Just that marriage is under the law and virginity is under grace.
Not that they were against marriage, per se. Just that marriage is the institution of fallen creation.
Thus had Ambrose, Jerome, Chrysostom, Siricius, Liberius and many others, by elevating consecrated virginity, created the hierarchy of chastity, and militated with much vitriol and consternation against the uncleanness and unholiness and unnaturalness and perils and troubles and pains and curse and incest and adultery and prostitution and sodomy and fornication and wickedness and error and evil of marriage and the conjugal union.
But they weren't against marriage… per se.

On the defensive, Jerome attempted to prove the ecclesiastical continuity of his teachings. In his attempt he largely ignored the late 2nd- and early 3rd-century writings of Clement of Alexandria who had rejected emphatically the very position Jerome was now espousing:
"There are those who say openly that marriage is fornication. They lay it down as a dogma that it was instituted by the devil. They are arrogant and claim to be emulating the Lord who did not marry and had no worldly possessions. It is their boast to have a profounder understanding of the gospel than anyone else." (Clement of Alexandria, Stromata, Book III, paragraph 49)

"We too agree that weakness of will and sexual immorality are passions inspired by the devil, but the harmony of responsible marriage occupies a middle position. When there is self-control it leads to prayer; when there is reverent bridal union, to childbearing. At any rate, there is a proper time for the breeding of children, … . You see who is the target of the slanders of those who show their disgust at responsible marriage and attribute the processes of birth to the devil? … the almighty ruler of the universe." (Clement of Alexandria, Stromata, Book III, paragraph 81)

"How can marriage in the past be a mere invention of the Law, and marriage as ordained by our Lord be different, when it is the same God whom we worship?" (Clement of Alexandria, Stromata, Book III, paragraph 83)
Setting aside Clement, Jerome insisted that he was saying no more than what Origen and Tertullian had before him. But Origen had understood the totality of Paul's teaching in 1 Corinthians 7:7 to place marriage on the same level as celibacy, each one a "proper gift" of the Lord:
"And, since God has joined them together, on this account in the case of those who are joined together by God, there is a 'gift'; and Paul knowing this, that marriage according to the Word of God was a 'gift,' like as holy celibacy was a gift, says, 'But I would that all men were like myself; howbeit, each man has his own gift from God, one after this manner, and another after that.' [1 Corinthians 7:7] And those who are joined together by God both mind and keep the precept, 'Husbands love your wives, as Christ also the church.' [Ephesians 5:25]" (Tertullian, Commentary on Matthew, Book XIV, chapter 16)
By way of a dramatic contrast, note that Origen did not accuse celibate young men and bereaved husbands of being in perpetual disobedience to Paul's command to "love your wives," and that it therefore follows from Scripture that we must always be in the bondage of wedlock, lest we disobey him. Such a conclusion would have been nonsensical, but it is by just such histrionics that Jerome justified his contrary position.
Turtullian, by way of another contrast, established three species of virginity—the celibate "virgin", the married "virgin," and the widowed "virgin"—but classified them all as sanctifying "virginity" in one way or another, each with its particular discipline: of happiness, of virtue, and of moderation (Tertullian, On Exhortation to Chastity, chapter 1). When encouraging his wife to persevere in widowhood upon his death, the contrast is even more remarkable, for Tertullian, far from Jerome, allows that it is understandable and allowable if she chooses a second marriage (Paul's words in 1 Corinthians 7:7 being advisory), so long as she marry "in the Lord" (Paul's words in 1 Corinthians 7:39 being mandatory):
"For the nobler is the continence of the flesh which ministers to widowhood, the more pardonable a thing it seems if it be not persevered in. For it is then when things are difficult that their pardon is easy." (Tertullian, To His Wife, Book II, chapter 1)
Where Jerome finds his best support in Tertullian, it is where Tertullian plumbs the depths of the Montanist heresy in which  "second marriages were disapproved" (Catholic Encyclopedia, Montanists; see Jerome, Epistle 123, paragraph 9), an error that was rebuked at Nicæa (Council of Nicæa, Canon 8).
In contrast with Origen and Tertullian, Jerome placed excessive emphasis on Paul's imperative, "For I would that all men were even as I myself" (1 Corinthians 7:7) (Jerome, Epistle 22, paragraph 20), while playing down Paul's other similar sentiments, particularly on the marriage of young girls and young widows:
"I will therefore that the younger women marry, bear children, guide the house, give none occasion to the adversary to speak reproachfully." (1 Timothy 5:14)
Jerome had taken these great blessings of marriage, child rearing and household management positively prescribed by Paul and turned them on their heads. He could only imagine that the command to marry was directed at consecrated virgins "who have outraged Christ their Spouse by committing fornication against Him" (Jerome, Epistle 123, paragraph 3). Paul's command to "bear children" can only mean that these fornicating, incestuous, adulterers were already pregnant by their whoring, and apart from marriage, would be tempted "to kill children whom they have conceived in adultery" (Jerome, Epistle 123, paragraph 4). The command to "guide the house" was taken to mean that the young woman's only other possible desire would be for prostitution were it not for the distractions of housework (Jerome, Epistle 123, paragraph 4). The blessings Paul had ascribed to the married estate, Jerome instead cast as "the drawbacks of marriage" which ought rather to be avoided:
"the drawbacks of marriage, such as pregnancy, the crying of infants, the torture caused by a rival, the cares of household management, and all those fancied blessings which death at last cuts short." (Jerome, Epistle 22, paragraph 2)
Ambrose had even gone so far as to condemn as heretics those who presumed to teach, as Paul had, "that virgins ought to marry [and] bear children" (Ambrose, Epistle 63, paragraph 22).
We will leave the Christian this week with the comfort that Ambrose, Jerome, Liberius, Siricius and Chrysostom were dead wrong, and against their ridiculous late 4th century novelties there arose a noble resistance. Those who stood against the error recognized exactly what was happening. Jerome complained loudly of them and their interference in his attempt to universalize his novelties:
"Certain persons find fault with me because in the books which I have written against Jovinian I have been excessive (so they say) in praise of virginity and in depreciation of marriage; and they affirm that to preach up chastity till no comparison is left between a wife and a virgin is equivalent to a condemnation of matrimony. If I remember aright the point of the dispute, the question at issue between myself and Jovinian is that he puts marriage on a level with virginity, while I make it inferior; he declares that there is little or no difference between the two states, I assert that there is a great deal. Finally— a result due under God to your agency— he has been condemned because he has dared to set matrimony on an equality with perpetual chastity. … There can be no middle course. Either my view of the matter must be embraced, or else that of Jovinian."  (Jerome, Epistle 48, to Pammachius, paragraph 2).
What Ambrose also knew too well was that his whole house of merit would collapse upon itself if the resistance was allowed to go on:
"What virgin can hear that there is no reward for her chastity and not groan? … What widow, when she learned that there was no profit in her widowhood, would choose to preserve her marriage faith and live in sorrow, rather than give herself up to a happier condition? Who, bound by the marriage-bond, if she hear that there is no honour in chastity, might not be tempted by careless levity of body or mind?" (Ambrose, Epistle 63, paragraph 10)
We come here to a rare point of agreement with Jerome and Ambrose. There could be no middle course. The resistance would cause the whole hierarchy of merit to collapse, and such an eventuality would be intolerable. The church hierarchy sided with Jerome, Ambrose and Chrysostom. Their diabolical derogation of marriage and their unbiblical institution of consecrated virginity carried the day.
Pope Siricius for his part convened a council to deal with "the new heresy and blasphemy," and reported the outcome to Milan:
"Having therefore held an assembly of my clergy it became clear that their sentiments were contrary to our doctrine,  … [Therefore] Jovinian, Auxentius, Genialis, Germinator, Felix, Prontinus, Martianus, Januarius, and Ingeniosus, who were discovered to be the promoters of the new heresy and blasphemy, should be condemned by the Divine sentence and our judgment, and remain in perpetual exclusion from the Church." (Pope Siricius, Letter to the Church at Milan)
Milan responded by affirming the excommunication (Ambrose, Epistle 42 to Pope Siricius).
And what was the "new heresy and blasphemy" for which they were condemned? We find their "errors" preserved for us in the several documents that reported and condemned the "heresy". Their "error," was that they "place[d] everything on a level," and did not accept the "different degrees of merit" for virginity, widowhood and marriage:
Jovinian as quoted by Jerome: "I do you no wrong, Virgin: you have chosen a life of chastity on account of the present distress: you determined on the course in order to be holy in body and spirit: be not proud: you and your married sisters are members of the same Church." (Jerome, Against Jovinianus, Book I, chapter 5)
The Church at Milan to Pope Siricius: "[I]t is a savage barking to shew no reverence to virginity, observe no rule of chastity, to seek to place every thing on a level, to abolish the different degrees of merit, and to introduce a certain meagreness in heavenly rewards, as if Christ had only one palm to bestow, and there was no copious diversity in His rewards." (Ambrose, Epistle 42)
Ambrose, regarding Sarmatio and Barbatianus: "I hear that Sarmatio and Barbatianus have come to you, foolish talkers, who say that there is no merit in abstinence, no grace in a frugal life, none in virginity, that all are valued at one price" (Ambrose, Epistle 63, paragraph 7)
Jerome regarding Helvidius: "You compelled me, Helvidius; for, brightly as the Gospel shines at the present day, you will have it that equal glory attaches to virginity and to the marriage state." (Jerome, Against Helvidius, chapter 24)
Jerome regarding Jovinianus: "He says that 'virgins, widows, and married women, who have been once passed through the laver of Christ, if they are on a par in other respects, are of equal merit.' " (Jerome, Against Jovinianus, Book I, chapter 3)
Jerome regarding Vigilantius: "According to the trick which he knows of old, he is trying to blend his perfidious poison with the Catholic faith; he assails virginity and hates chastity; … And, to follow out your argument, virginity would not deserve our approbation. For if all were virgins, we should have no marriages; the race would perish." (Jerome, Against Vigilantius, chapters 1 & 17)
These men against whom Siricius, Ambrose, Chrysostom and Jerome had raised their polemical swords were all validly ordained men of good standing. Further, they were successfully carrying the day in their own dioceses, preaching the truth and gaining adherents.
Pope Siricius observed with indignation that they had "by their alluring and false arguments already begun to ruin some Christians, and to make them associates of their madness" (Pope Siricius, Letter to the Church at Milan, paragraph 4). Jerome complained that Jovinius had now "belched out his spirit" into Vigilantius (Jerome, Against Vigilantius, paragraph 1), and then he execrated Vigilantius because of his influence in "all those provinces where numbers plead freely and openly for your sect" (Jerome, Epistle 61, to Vigilantius, paragraph 1). Jerome was simply beside himself that in the diocese of Gaul, Vigilantius' "errors" were not only being tolerated but encouraged. He expressed both surprise "that the reverend bishop in whose diocese he is said to be a presbyter acquiesces in this his mad preaching" (Jerome, Epistle 109, paragraph 2), and dismay that Vigilantius successfully "makes his raids upon the churches of Gaul" (Jerome, Against Vigilantius, paragraph 4). Inexplicably to Jerome, "Gaul supports a native foe, and sees seated in the Church a man who has lost his head" (Jerome, Against Vigilantius, paragraph 4).
These complaints suffice to show that these were neither men of mean intellect nor mere simpletons who were raising objections to the new hierarchy of merit and the attendant derogation of marriage. They were rather educated, ordained men of perfectly orthodox credentials and well equipped for their ministry of preaching. They were not only resisting the novelty, but were doing so successfully, preaching the truth, "raiding the churches," infecting the provinces, "ruining Christians" and "making associates" of them in their "madness." In other words, they were carrying the gospel to the lost. And they were winning converts.
To put it another way, with the rise of Roman Catholicism in the late 4th century came Rome's perennial archnemesis: the Protestant. From the times of the apostles, the church had served as a barrier to postpone the rise of Roman Catholicism with all its errors. But Roman Catholicism would inevitably rise, as the Prophets and Apostles had warned, and when it did the Church adopted a stance of protest. Jovinianus, Vigilantius, Sarmatio and Barbatianus are only a small sampling of them, and their objection to the hierarchy of merit is only one example of the many late 4th century novelties they opposed. There were very many more.
Our Roman Catholic readers will undoubtedly cast an incredulous eye upon our "reformers" of late antiquity, but before they do, they may wish to consider some rather sobering thoughts from one of their own. Roman Catholic scholar David Hunter, whose work, The Virgin, the Bride, and the Church we cited above, wrote extensively on the "Jovinianist Controversy," and arrived at a rather surprising—and undeniably remarkable—conclusion: Jovinian had a more credible claim to apostolic continuity than his detractors did, removing from Ambrose and Jerome the presumption of apostolic origins for their novelties. Ambrose and Jerome had drawn more from the 2nd century encratite heresy than from the apostles, and were thus marginalized by Jovinian's orthodoxy:
"If there is a single conclusion to be derived from my study, it is that Jovinian stood much closer to the centre of the Christian tradition than previous critics have recognized; certainly he was closer to early Christian 'orthodoxy' than his condemnation for 'heresy' would suggest. … But to succeed in placing Jovinian closer to the 'centre' of Christian discourse is simultaneously to 'de-centre' some major figures in the Christian tradition, and my study has raised some questions about the ascetical theology of Ambrose and Jerome and their relation to prior tradition. Jerome's deep dependence on the Montanist writings of Tertullian, as well as the extensive influence of Origen, led him to adopt a posture towards marriage that many, if not most, of his contemporaries found scandalous. Similarly, Ambrose's attraction to the ideal of virginal integrity, also influenced by a heavy dose of Origen's theology, caused him to adopt a Marian doctrine (virginitas in partu) that had only a fragile basis in earlier Christian tradition. In different ways, both Jerome and Ambrose represented the survival of the ancient encratite tradition at least in its moderate form. Both strongly associated sex with original sin and linked salvation to sexual purity." (Hunter, David G., Marriage, Celibacy and Heresy in Ancient Christianity (Oxford University Press (2007) 285).
We will continue this series in our next installment, and highlight even more of the novelties these early reformers opposed.