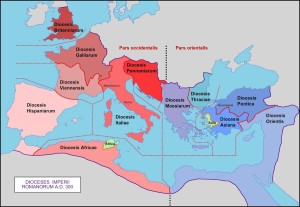 Last year we posted two separate entries, False Teeth and "Unless I am Deceived…," both dealing with the anachronistic projection of late 4th century civil boundaries of the Roman Empire retroactively onto the early 4th century text of Canon 6 of the Council of Nicæa. The anachronism has obscured the meaning of the canon since the days of Jerome (398 A.D.), Rufinus (403 A.D.) and Innocent I (411 A.D.).
To illustrate just how pervasive and enduring that anachronism is, we note in Sara Parvis' recent (2006) work on the Arian controversy that the Council of Tyre in 335 A.D. is described as a synod of bishops from the civil diocese of Oriens, supplemented by a few bishops from Egypt and Libya:
"[I]t is clear from the list of provinces that it was basically a synod of the civil diocese of Oriens (Cilicia, Syria, Mesopotamia, Phoenicia, Arabia, and Palestine) … supplemented by a handful of bishops from the Egyptian provinces (mainly Melitians) and Libya…" (Parvis, Sarah, Marcellus of Ancyra and the Lost Years of the Arian Controversy 325-345 (New York: Oxford University Press, 2006) 125)
Note that she has described Egypt and Libya as if they were outside of the diocese of Oriens at the time. In fact, Egypt and Libya had been part of Oriens since Diocletian's reorganization in 293 A.D., and remained so at least until 373 A.D.. They were certainly within Oriens at the time of the synod of Tyre.
That seemingly innocuous error has been repeated in various forms since the days of Jerome, and has had a surprisingly significant impact on the historical assessment of canon 6 of Nicæa, a canon that was written specifically to address an Alexandrian boundary dispute that had occurred within the diocese of Oriens. Such geographic matters weigh heavily on a canon that was written to address a geographic controversy.
Ms. Parvis' illustration above is just a recent example of a long history of analyses that assume Egypt and Libya were outside of Oriens in the early 4th century. That anachronism has been put to effective use by Roman Catholic apologists who wish to prove Roman episcopal primacy from the 6th canon of Nicæa, and their conclusions rest entirely upon that error.
The Trinity Foundation has recently published our articles on this topic in a revised compilation under the title, Nicæa and the Roman Precedent. Those interested in studying the implications of Jerome's, Rufinus' and Innocent's error, and how it has affected 1600 years of Nicæan ecclesiology, can read further about it there.